I take pride and, in many ways, courage to flaunt that I enjoy just about every vegetable. Oh, that's nice, you might think. But I'm not quite sure if you understand: I love about every vegetable even on its own. A Thanksgiving yam needs no brown sugar or butter to satisfy my sweet and savory tooth. Spinach need not the bulking of cream or cheese to deliver the greens down my mouth (although, a little dressing wouldn't HURT). Even peppers and onions can skip the sauteeing process – Just be yourselves! I say.
My enjoying vegetables does not quite come as a rule of thumb, however. If veggies are the governing law, then there really are exceptions. One such exception takes the shape of a wadded-up tissue, green from the forest, and smells of what I imagine the feet of the archaic might taste like.
All rudeness aside, I am, indeed, referring to brussel sprouts.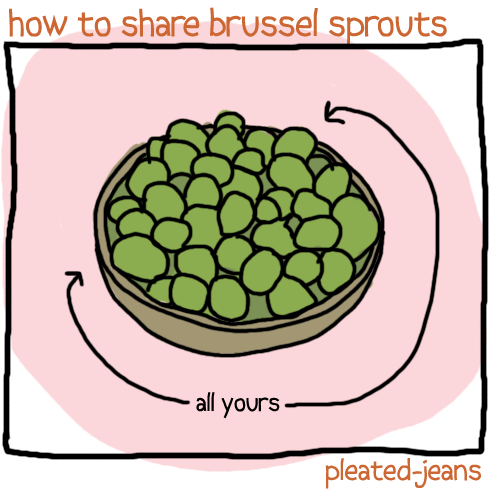 But don't misunderstand me, dear reader. I do not report on this pungent greens because I immediately hate them, but because I want to like them. And so, I leave their fate up to you: how do YOU prepare and enjoy your sprouts?
Here are a couple of techniques of heard of from other online cooks, but unfortunately have not yet tried:
– SORTEDfood makes a potato bake with shredded sprouts, bacon, cream, and bleu parmesan cheeses. (recipe at their SORTEDfood website)
– Ina Garten recommends a surprisingly simple list of ingredients: olive oil, salt, and pepper. (recipe at the Food Network website)
– Minimalist Baker takes a lighter vegan route, with garlic, sriracha, and aioli (recipe on their site Minimalist Baker)
But what are some other ways to enjoy these super greens? Comment below, post your pictures, and hopefully I can try them myself and finally change my mind.
– Rory